Students


BHBC Student Ministries
23 Then Jesus said to them all:
"Whoever wants to be my disciple must deny yourself and take up your cross daily and follow me." (Luke 9:23)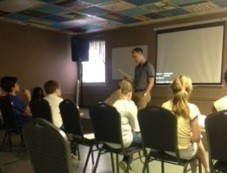 At Beverly Hills Baptist Church, we provide many opportunities for middle and high school age students to experience the love of God through different areas of life. Discipleship, service, worship and fun are interwoven to offer a balanced ministry for growth in Christ.
We challenge our youth to live by Luke 9:23. Our prayer is that our students will discover the life of freedom through discipleship and sacrifice as they follow Christ daily. As disciple/followers of Christ our young people will discover that Jesus offers them the most abundant and wonderful life that they can possibly know.


Weekly opportunities for discipleship include:
Sunday School 9:45 a.m.
Sunday Morning Worship 10:55 a.m.
Sunday Student Ministry/supper 5:00 p.m.
Wednesday Supper 5:00 p.m.
Wednesday Student Ministry 6:00 p.m.
Special discipleship opportunities include:
DiscipleNow Weekend
A DNow weekend is a time of fun and Bible study that is much like an "in-house retreat" with our youth being hosted in the homes of church members. This concentrated time of worship and study inspires spiritual growth while providing opportunity for building stronger bonds of friendship in the family of Christ.

Special Bible Studies
Throughout the year we offer short term studies that focus on what the Bible says about particular subjects that impact the lives of young people.

Opportunities to serve include:
Service projects in the church and community
Operation Inasmuch
Mission trips

Fun and Adventures:
We plan a full calendar of fun activities and outings that take place throughout the year